Results Obedience & Manners Levels One, Two and Two Plus!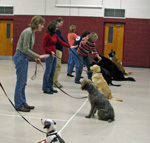 Picture shows Obedience & Manners Level One trainers
teaching a "Stay" command, note the great attention,
implementing hands on training without treats, clickers or remotes!
Results! From the litter to your best friend...


Getting sass? Sign up for a 'Results' class and relax!!

Obedience & Manners - Level One
Pet Age: Six months and older up to 8 years,
however there is no old age limit if your pet is comfortable!
Fee: Six weeks Brighton Community Ed $148 / Howell Parks & Rec Resident $148, Non-resident $158
Pets DO NOT attend the first class! For puppies and dogs five months and older at the start of class. The first class is training for you. The presentation covers how to get the most out of the session.
Trainers must be age 18 and older.
This is a excellent hands-on, praise reward with a quiet discipline training program. Instruction includes how to use gentle leadership skills. Special attention is given to drives and signals. We do not use treats or clickers. Commands introduced in the Pawformance Puppy Classes are reviewed and introduced for new trainers to us.
Covered in class: wait, get-it for polite treat taking (not used to reward obedience commands!), sit, down, steady which is a relaxed stand and come! Added are various exercises to improve handling, move, off (no jumping or counter surfing), the stay, leave-its, and controlled walking - normal and slow paces!
No fluff or tricks - this on-leash class concentrates on the basics to help you develop your pet into a pleasant and happy companion. You will take time to build a strong foundation at this entry level class! Note - if your pet has had exposure to a food based program and you are not happy with the training, consider starting over at this base level using praise and gentle leadership skills.
* Interested household members that can sit and stay quietly through the entire class are encouraged to observe as consistency in handling your pet is important to help ensure successful training.
For best Results - start your pet early! Learning is never erased and your pet is learning lessons that it will remember for life. Every day is a teaching opportunity - what are you letting your pet learn?
As a hands-on method is used for some of the exercises, you must be able to physically guide your pet into positions in early training, at class and at home. For some of the exercises it is best to be on the floor next to your dog. Thus, wear comfortable clothing and practical shoes - no heels or platform type shoes or boots.
Trainers must be able to interact with their pet, hear and follow verbal instruction.
Trainers MUST be physically strong enough to be able to keep their pet under control. No dragging the trainer to visit other training teams while on the training grounds - inside and outside of class. Due to an automobile accident injury, the instructor is experiencing limited ability to handle strong pets. Thus, be sure your pet cannot drag you as this will be strictly endorsed. Thanks!

Aggression issues? If you have a pet in need of serious behavior help, this class may not serve your needs. This is a group class formatted for general pet training. Due to the limitations of same, please be sure to read the class description and FAQs before registering your pet.
If your pet has shown aggression, you may wish to contact the breeder of your pet, the person or organization you received it from for help. Be considerate and do not put others at risk if your pet may not be safe in a group environment. Do not register it for our group classes. Be considerate of your pet as well and get it help.
With regret, private lessons and phone consultations for serious behavioral issues are not available at this time.
Equipment: Is noted below and a list will be given at the first class.
Questions? Please ask after discussion at the first class.
Equipment is not available on loan.
Soft cloth collar, a limited choke collar such as a martingale type if more control is needed.
Body harness is recommended for pets that pull.
4' leash, and/or 6' for small toy breed pets.
A size appropriate long line for home training if needed and will be discussed at class.
A roll of paper towels and plastic bags for cleanup.
A towel size appropriate for your pet to use on wet days for drying your pet's paws before entering class. Also for drying your pet after class before entering your vehicle if desired.
NOT ALLOWED: For the safety and comfort of you and your pet: No chain leashes, choke collars, head halters, (un)gentle leaders, retractable leashes. These items are not allowed to be used on the training grounds and are not suggested for home use!



Obedience & Manners - Level Two
Prerequisite: Same RDT returning trainer and same pet graduate within three months of Obedience & Manners - Level One and/or instructor permission.
Fee: Five weeks - $128 Brighton only, Howell Parks & Rec grads are welcome!
Pets attend all classes.
Bring: A towel if conditions are wet to dry your dog off before class. Your regular training equipment used in the last class.
A 10' - 20' long line will be used for pets ready for same - No wire cables, retractable leashes or chains.
What is taught: This offering builds on the foundation set in Obedience & Manners (O&M) Level One - the floor activity increases setting up great practice as well as new instruction. Participants will be working on immediate response with greater distractions and distance on long lines as pets are ready.
Added are some of the exercises included in the AKC Canine Good Citizen test along with many walking drills, finishing the figure 8, hand walk, sit and down signals, and whistle (at home) signals. Many of the exercises started in O&M - Level One are kicked up a notch or two depending on the class flow! Included are park-its, more practice with the 'leave it' from O&M One, variations of heel and come drills. Structured socializing for pets as ready for same. (Socializing, as in my Puppy class is not a wild pet party!)
AKC Canine Good Citizen (CGC) or Therapy Interest? Participants with therapy interests will have opportunities to practice skills needed with continuing obedience offered at this level. Due to various possibilities, (hospitals, nursing homes, reading programs at schools/libraries, etc.), please provide me (Mary T.) information regarding your interest (type of therapy/location if known) for planning purposes at the first class, thank you.
Note that testing is not included in the class. There are many testing opportunities in the SE Michigan area, inquire!
There is much content offered at this level and this class may be repeated. Returning O&M Level Two graduates may register for O&M Two Plus! This offers a price break, too. See below...

Taking a break? Consider returning to O&M Two for a Brush Up!
Sign up your Results O & M Level Two graduate within six months if your pet in need of a brush up of skills and social manners. Note, if your last O&M Two class was more than six months ago, contact Mary T. before registering if you are not sure if O&M One may be a better fit for your pet.



Obedience & Manners - Level Two Plus!
Pre-requisite: O&M Two Grads with instructor permission.
Fee: Five weeks - $108 Brighton only. Dogs attend all classes.
If more practice in O&M Two is needed before moving up to O&M Three, this offering is for you & your pet! There is much presented in O&M Two and many choose to repeat this class that desire more practice. It is great for pets in need of "J" leash, stay training and distance "Comes".
The AKC Beginner Novice (BN) addition provides more of a challenge with practical, companion obedience. You and your pet will be doing the independent AKC BN course and exercises (as introduced in the two class clininc prerequisite) when I am introducing new exercises to the incoming O&M Two trainers (shared class time).
In this class, I am available for Q's and will be your 'judge' for those interested in showing! Note! Pets will be off leash as instructor deems ready. Some pets will require one session, others may take longer. Please do not train ahead of the program for best Results!
The following AKC Beginner Novice (BN) cards and exercises are explained in the prerequisite clinic and handouts are given for reference.
Heel on Leash
Figure 8'
Sit for Exam
Sit Stay
Recall
If you are interested in competition, inquire! If you are new to obedience competition, a private or semi-private lesson is strongly suggested.
It may be possible to do this in a semi-private Drop In & Pay class. Inquire!


What Comes Next? O&M Level Three - AKC Rally-Obedience! Practical or show - this class offers advanced obedience. Pets may be off leash as they are ready for same. Socializing for both you and your pet plus a terrific way to get some exercise!

Results O&M Level Three - Pawformance Sports! AKC Rally-Obedience if you and your pup have taken the O&M Two Plus with Pawformance Sports! class with the AKC Rally-O introduction.

Link: Pawformance Sports Results O&M Level Three - Rally-O
or

Pawformance Sports - Recreational Agility Level One if you and your pup have taken the O&M Two Plus with Pawformance Sports! class with the agility introduction.
This 'for fun' class offers a variety of jumps and the tunnel. Great exercise for both you and your pup! This class is offered in Howell on a rubberized floor with A/C. Offered year round!
Link: Pawformance Sports - Recreational Agility One!
Warning! This next class may be habit forming - pets and people have fun! Starting with an obedience base at an advanced level this class melds dog sports on a recreational or competition Rally-O level!


© copyright 2000-present Results Puppy & Dog Training and Pawformance Sports! All photos, logos, and text are property of Results Puppy & Dog Training, Pawformance Dog Sports! and it's contributors. Any copying is strictly forbidden without written permission of and copy of material produced to Mary T. Ratelle.